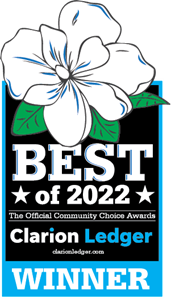 THANK YOU FOR VOTING HOMETOWN MEDICAL THE #1 MEDICAL SUPPLY STORE IN THE STATE OF MISSISSIPPI. 
Hometown Medical LLC, Coronavirus Statement:
As one of the largest medical care providers in Central Mississippi, Hometown Medical seeks to lead the charge in helping combat the spread of COVID-19. That is why we are closely following guidelines from the CDC and Centers for Medicare and Medicaid Services for information on how to continue meeting your needs while also modeling best practices for stopping the virus from spreading throughout our state. Below we are outlining important information about how we are working to ensure we do our part to keep our employees and, most importantly, our customers healthy.
1. Hometown Medical is open for business. We will continue to serve all our customers and patients during this time.

2. For oxygen and CPAP patients, we will gladly ship supplies for your devices to your home. This will allow us to limit unnecessary traffic within our stores.

3. We ask that customers who are returning used equipment or bringing equipment to the store for repair allow a technician to gather equipment and take it from the patient's car to the appropriate location in the warehouse. This will keep our storefront and customer service area free of potentially contaminated devices.

4. We will continue to follow closely our policies and guidelines regarding cleaning and storing used equipment.

5. We have asked employees to stay at home if they began showing symptoms of respiratory illness (such as cough, congestion, fever, etc.). We also ask that customers exhibiting such symptoms also remain at home and call one of our branches for any medical equipment needs.
Our customers and staff are like an extension of our family. We will continue to provide the best service and safety for everyone, and we will continue to operate under normal business hours as long as local, state, and federal agencies allow.
 Thank you,
 David and Connie Hosemann, Owners
 Hometown Medical LLC
NEW UPDATE
Hometown Medical Assists ERDC with National Hospital Room Prototypes for COVID-19 Response – The Vicksburg Post | The Vicksburg Post
Hometown Medical is committed to providing extra care and attention to the needs of their patients and community during the COVID-19 crisis. "We are all in this together. We will continue to provide the best service and safety for everyone." David and Connie Hosemann, Co-Owners, Hometown Medical
Welcome to Hometown Medical
Serving Central Mississippi Since 2002
Hometown Medical has been serving the home medical needs of central Mississippi since 2002. With locations in Flowood and Vicksburg, the caring professionals at Hometown Medical are able to provide customers with excellent service that's close to home.